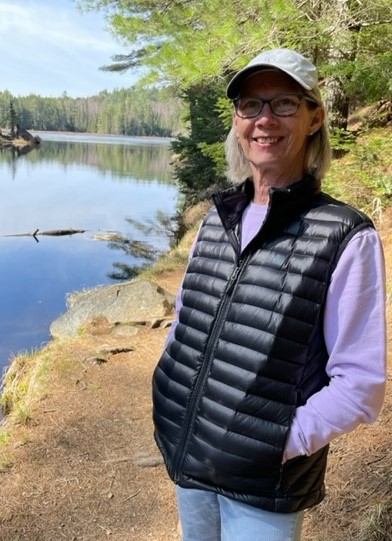 Giedre's journey in art began after retirement. While always having a love of drawing and sketching, retirement finally allowed Giedre to immerse herself into the world of art. She has also always had a love for the wilderness and has spent much time travelling across Canada, camping, hiking, kayaking, and photographing the scenery in all 4 seasons. She now paints the scenes that she loves in hopes that viewers will understand the importance of preserving and loving our precious natural spaces. The rich colours and shapes evident in the vistas she has seen are translated into her paintings by using bright, deeply saturated and varied colours.
Giedre paints in acrylics and oils, sometimes exchanging brushes for palette knives in her paintings. She has studied with many acclaimed Canadian artists and continues to enroll in classes and workshops as she believes there is always something new to learn. She is a member of the Manotick Art Association, Arts Carleton Place, and West Carleton Arts Society.
Giedre's studio is in her home in North Gower, a rural village just south of Ottawa, where she has lived for over 35 years.
Resume
September 21/22, 2023: Petite Art Show, Square Foot Edition on-line
September 1-27, 2023: Footsteps in Algonquin, Algonquin Room at the Visitor Centre, Algonquin Park
June to September, 2023: Natural Inspirations, Atrium Gallery, Centerpointe, Ottawa
April 2023: Inspirations Spring Show and Sale, MAA
March 2023: Mastrius Land to Sky On-Line Show,
October 2022: Inspirations: Small Treasures; MAA Fall Show
October 2022: Forest Therapy; Solo Show at Hunt Club Riverside Community Center, Ottawa
May-June 2022: Algonquin Ambiance, group show at the Algonquin Park Visitor Centre, Algonquin Room
May 2022: Arts Carleton Place Fine Art Show
April 2022: Inspirations: Spring Show and Sale; MAA
Fall, 2020 And Fall, 2021: MAA Inspirations On-Line Shows
June 2019: North Grenville Arts Guild Art Show and Sale
April 2019: Inspirations Spring Show and Sale, MAA
June 2018: Richmond 200 Art Show and Sale
April 2018: Inspirations Spring Show and Sale, MAA
Giedre's work has also been displayed at various venues in Ottawa, Kemptville, Richmond, Manotick, and North Gower, and has found its way into the hands of buyers across Ontario and in the USA.